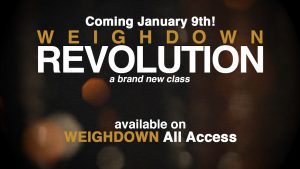 This video is now part of the WEIGHDOWN REVOLUTION series!  To access this video and hundreds of more audios and videos from Weigh Down Ministries, become a Weigh Down All Access Member.
[button link="http://www.weighdown.com/all-access/" size="xl" bg_color="#008000″ border="#000000″ window="yes"]Get Started Now![/button]
---
Remnant Fellowship Presents – The Revolutionary Breakthrough … Get ready to experience a weight loss revolution! Remember when you were introduced to Weigh Down for the first time and you enjoyed the wonderful freedom of no dieting, eating your favorite foods within God's boundaries…and you lost weight easily?  Remember how connected to God you felt for the first time in your life?  Perhaps somewhere along the way you returned to weight loss gimmicks, controlling the food and enslavement to a number on the scale. In this episode of the "You Can Overcome" show, host Gwen Shamblin introduces the "The Revolution," the latest class in the works offered by Weigh Down.  Set to debut in early 2017, the current focus group of approximately 200+ participants who are taking the class during the filming of the series is experiencing unprecedented results.  Participants who have been stuck on a plateau for years, are at last breaking free and losing weight again.  Even more thrilling than the weight loss is the freedom and joy felt in the heart, a renewed awareness of how valuable each individual is to God.  If you personally have felt like a failure and hopelessly stuck in your overweight condition and/or vice of choice, be encouraged to know that you are so dearly loved by God and there is so much hope.  Watch this episode and join the weight loss revolution!
For more information on how to join Weigh Down go to www.weighdown.com
Hosted by Gwen Shamblin
Co-hosts: Tedd & Candace
Special Guests: Jayne Dubois
Filmed live on October 26, 2016
Copyright 2016 Remnant Fellowship, Weigh Down Ministries, and Gwen Shamblin
Additional resources by Gwen Shamblin on this topic include:
For more lessons like this one or to visit a live worship assembly, go to www.RemnantFellowship.tv
More resources from Gwen Shamblin at http://www.GwenShamblinbooks.com
WeighDown is one of the 35 life changing ministries of Remnant Fellowship Church. For more information on Remnant Fellowship Church, including how to join us for worship locally or via webcast, go to www.RemnantFellowship.org